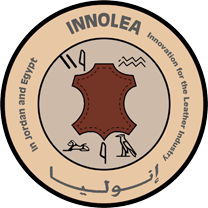 INNOLEA is a three-year Erasmus+ project co-funded by European commission which aims to fill an apparent gap in the area of specialized services for the leather sector in Jordan and Egypt and to utilize the experience and expertise of EU partners to establish four-leather-research centers within the universities of both countries.


These centers will help the project partners in both countries to implement the various tasks of the project and to provide access to the stakeholders in the leather sector to business development services, such as quality testing, product certification, training, fashion trends, production organization, business to business opportunities in order to develop this sector and improve its competitiveness.
The project also aims to create and maintain a link between Universities and businesses of the leather sector that will foster innovation and the manufacturing of high value quality products, as well as further cooperation between EU and Jordan and Egypt Universities and leather businesses.
The project also aims to help encourage the Egyptian and Jordanian governments to favor the establishment of leather centers within universities and to promote research and projects between EU and Egypt and Jordan universities in the leather sector, by creating a research innovation and training network, which will continue to operate and after the end of the current project also.
This collaboration website platform will also continue its operation after the end of the project. It will be a virtual space aiming at favoring collaboration between:
- the new-established leather centers;
- leather centers and companies, both European and of the target countries;
- leather centers and other relevant stakeholder, such as policy-makers, Bios and research centers;
- leather centers and initiative groups who would like to create other leather centers/ universities interested in setting up leather centers.